Organizing Part 1
Organizing Part 1
Posted on Saturday, March 9th, 2019 at 6:03 pm by Chip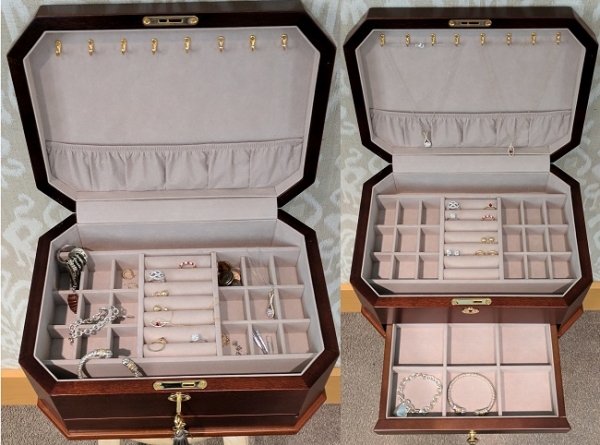 The First step to organizing Your Jewelry is to recognize the 3 fundamental goals
-Preventing Loss
-Protecting from Damage
-All Jewelry accessible for selection
While these three concepts are obvious, all of us do things that contradict these principles. We all do this because of time. But it is possible to have Your jewelry in the same place every time with just a few good habits. Imagine being able to view all of Your jewelry in the few moments available each morning; allowing You to compliment clothing or even wear memorable gift from a loved one You will see that day.

Preventing Loss:
Jewelry is most likely to be lost when You are not wearing it; the best practices to prevent that are.
-Have a routine of putting on and taking off Your jewelry into its storage place such as a Jewelry box
+Although one location is ideal things like travel or taking off Your jewelry for certain activities can make it impossible. In these cases, having a secondary storage location is acceptable (this will be covered further in preventing damage)
-Small Ziplock bags and drawstring pouches work! Pockets, envelopes, and purses do not!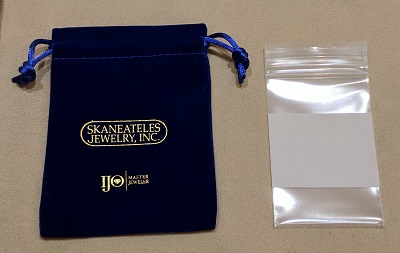 Protecting from Damage: How to care for Your Jewelry is another subject, but two hints are: 1. Practice Common Sense 2. wear gloves. Improperly stored jewelry can easily be damaged, these tips will help prevent that.
-Prevent contact with other hard and heavy items such as change, cosmetics, and tools by storing separately.
-Minimize contact with other Jewelry to prevent things like rubbing or even tangled chains.If Not a Jewelry box, small ziplock bags and drawstring pouches are great supplements for travel. A small box can help prevent more delicate items such as ornate earrings from being crushed.
-Prevent tangling of chains by putting most of the necklace into a ziplock bag or drawstring pouch and closing it with a small tail of chain sticking out. Only put one necklace in each bag.

Making it look good:
Get a Jewelry box. If You have one, use it. Socks are so much easier to find when they are matched; Jewelry is exactly the same. If Your Jewelry is organized, You will enjoy more of it. Disorganized jewelry can lead You to:
-Wear the same jewelry and only enjoy a fraction of Your collection
-Not even know what Jewelry You have; this can lead to frustrating duplicate purchases or conflicting designs.
There is no one way to organize Your Jewelry, any logical method will help. For example:
-Grouping Jewelry by color
-Progression of size. For example have a petite piece of jewelry next to a medium sized piece rather than a large one.
-Use all of the features of Your Jewelry box; for example hang necklaces when possible rather than laying them down.